Smadar Emor is a dancer, choreographer, vocal artist, a writer and voice-movement therapist. Her research is dedicated to rediscovering the body's wisdom and tapping into its creative flow.
She is a master teacher and the founder and head of "synapse center for voice and movement research" in Israel. Over more than 25 years of research, she has developed her own practices known as "Body-Voice Intelligence" and "Voice in Movement Integration". She teaches 3 long-term programs (2-3 years) of her methods for facilitators, therapists and artists. The programs take place in Israel and in Prague. Her desire and intention has to do with personal development, and transformational and creative processes. She is an active performer in Israel and in Europe.
She has engaged in artistic activities for many years, within the scope of which Smadar has often created for the "Israel Festival", and for various other festivals in Israel and abroad.
She is the founder of Synapsa dance group, for which she created and performed for more than 7 years. The Synapsa dance group is well known in Israel for the use of Ashekol-Vachman movement notation as the core for research and creativity.  The Synapsa research center is an organic continuity of this dance group.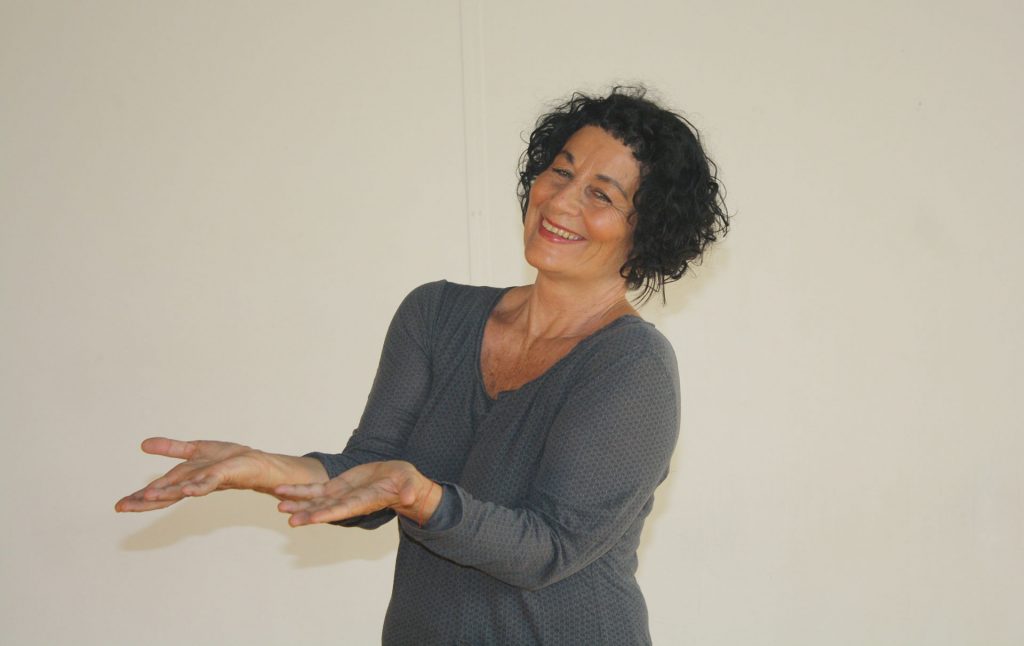 1982: Graduate of the Bezalel Academy of Art, Department of Environmental Design.
B.A 1987: Graduate of Rubin Academy of Music and Dance, Jerusalem. (Eshkol – Wachman Department of Movement Notation).
M.A 2015 : Graduate of the Tel Aviv University in the framework of the theater and performance study department.
In addition to her academic studies she continued advanced studies in various methods relating to the fields of somatic movement, dance and voice. She has been particularly influenced by the Feldenkrais method, Alexander Technique, Body-Mind centering, and Contact Improvisation. She has worked with American artists Lisa Nelson, Steve Paxton, Daniel Lepkoff , Simone Forti and many more, and Butoh (Tadashy, Maya Donsky).
She worked with Maud Robar (assistant to Polish director Jerzy Grotowski) on Yanvalou and Haitian Chant in Pontedera-Italy. For few years she founded a laboratory for ritual research inspired by Grotowski's method, with Avi Asharaf and Baruch Braner, actors and practitioners from Jerzy Grotowski's group in Pontedera-Italy .
For 25 years Smadar has been practicing and teaching the practices she has developed: "Body-Voice Intelligence" and "Voice In Movement Integration". This practice combines her profound knowledge of the human voice and movement with her personal search for the authentic sources of life that manifest through organic musicality.
Taught at the "School of Visual Theater" in Jerusalem.
Taught workshops in Munich-Germany.
Taught at the Jerusalem High School for Performing Arts.
Founded the Synapsa Center for multi-disciplinary voice-sound-movement research.
Taught at Rubin Academy for Music and Dance in Jerusalem, Israel.
Founded and taught her programs in Shiluve center and in Tur-Sinai center in Israel. Those are 2 to 3-year programs for facilitators of Smadar Method.
Founded the program "Bodyvoice" in Prague together with Rena Milgrom. This is a 3-year training program for  dancers, singers, actors, performers and others to be facilitators of Smadar Method.
In her artistic works she has cooperated in many projects with artists such as Avi Ashraf, Baruch Braner, Michal Govrin, Amos Hatz, Impulse Company, Raly Margalit, Rony Porat,  Stiv Horanshtain, Hadas Ofrat, and more.
From a Far, a site-specific dance work performed on Mount Zion, presented at the Israel Festival. (won the first prize in a sit-specific competition,  A movie about this work was filmed  by the Israeli Television).
Back and Forth, Jerusalem Theatre.
The Bridge, a work for the Israel Festival.
Insomnia, a work for the Israel Festival.  won third prize of the competition of site specific performances.
Work in Progress, Acco Festival.
Behind the Fence,  A joint creation with Hadas Ofrat, the work was Invited to the Music and Theatre Biennale in Munich.
The Twilight Zone, Suzanne Dellal Center, Tel – Aviv, Jerusalem theater ' and other elsewhere.
Childish Tango , Two by Two, Suzanne Dellal Center .
A Journey of Heavy Birds , Section A, room dances, Suzanne Dellal.
A Journey of the Heavy Birds, three sections, Suzanne Dellal Center.
A Journey of the Heavy Birds, Israel Festival Chicago.
Gog and Magog, Laboratory project, directed by Michal Govrin Lab – Israel Festival.
Unpaved streets , Room Dance festival.
A.D. Second Try, work for Moza dance company. .
Separation, Room Dance festival.
Until the Angel Came, The Interdisciplinary Arena – Jerusalem.
Tmuna, Tel Aviv, Suzanne Dellal Center Tel – Aviv, Germany – various cities.
Until the Angel Came, International Exposure – Suzanne Dellal Center .
Memories from Another Life ,  Work with the group Mamaliga, with scholarship funding by The Laboratory, The New Center for the Performing Arts.
Home port, Conducting a project with Impulse group.
Secret of Unification, Work for Ensemble Synapse at Laboratory Theatre –Jerusalem. "Gerar Bachar" Theater-Jerusalem. Suzan Dalal theater-Tel Aviv.
Graduated her M.A. from the TAU in performance studies. performed different pieces in the framework of  the theater department.
Published her book of poems: The Journey Of  The Heavy Birds.
The Poetic of the Broken Heart, Solo work (50 min) together with the Chiliast Rali Margalit. Was performed in the festival Intima Dance at Tamuna Theatre in Tel Aviv and in the Festival "between Heaven and earth" in Garar Bachar Theatre in Jerusalem.
Watch the creations of Smadar Emor